The Biography
I got the electronics bug when I was 10 years old. It started with a "crystal radio" kit that I received as a gift. After assembling the kit it took some time for me to create a good attenna but the first time I heard a voice coming through that little device I was hooked.
From there I began reading books from the library trying to better understand radio and electronics. Through self study I completed my Federal examinations for my amateur radio operators licence and designed and built my first 80 Meter band radio receiver. My family didn't have a lot of extra money so my station's transmitter was found in a military surplus store. It came out of WWII Lancaster bomber. I designed a power supply and modified it to accept a morse code key. My first contact with that simple gear was with a gentlemen living in the state of Michigan, USA about 200 miles away from where I was living in Canada.
Oh and did I mention... all that equipment ran on tubes!
At the age of ten I also started to take guitar lessons and the from there the two passions of my life were seeded. Later in life it was always a struggle to choose between my two loves, music and technology and so ultimately I decided that I could not choose and pursued them both.
When it was time for post secondary education a revolutionary program started in the city I was living in that I could not resist. The Music Industry Arts program at Fanshawe College boasted a stated of the art multi-track recording studio and they even had something called a Moog Synthesizer. So I spent the next three years there and graduated in the Recording Engineering program.
My thesis was called "Kunstkopf, a Discussion". It describes dummy head recording and how it works. If you are not familiar with what a dummy head is you can see one here. You can get a copy of the second edition of my thesis by just asking.
I spent seventeen years working in the engineering department of a regional Broadcasting company, first at CFPL Radio and then moved on to CFPL television division.
I owe a debt of gratitude to the people I worked with and trained me in the mixed arts required by a broadcasting engineer. Many thanks to the chief engineers I worked under: Peter Paczinsky, Don Wilson, Jim Kippen and the many colleagues too numerous to mention.
Those jobs exposed me to the entire gamut of technology used in 20th century broadcasting. We were responsible for ALL technology in the chain from the microphones and cameras to the Transmitters and all pieces of gear in between.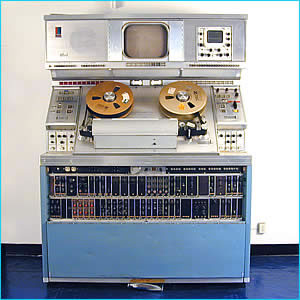 We used the RCA TR-70 2" Video tape machine during part of my engineering career. It was considered the most complicated machine ever created by humanity in the 1970s. It used thousands of watts of power and required 60 PSI for the air bearings and 21 inches of vacuum to hold the tape stable over the rotating quadraplex head!
I am familiar with a wide swath of analog technology from early tubes to the complexity of analog video tape technology, which was arguably the pinacle of analog technology.
In my last years in broadcasting I began self study work in the field of software engineering. I became proficient in an unique part of this field using the Forth programming language. I took on some contract work in my spare time and this led to a opening and a small company that specialized in of all things, Acoustic testing for telephone manufacturers! I got the job because of my combined knowledge of audio technology and real time programming. Who knew?
So all this to say, I am no spring chicken and well qualified to not only modify your microphone but also to evaluate it, measure its performance and send you back a microphone that will exceed your expectations.
If you have any questions just ask.